Hot Water Extraction in East Bridgewater, Massachusetts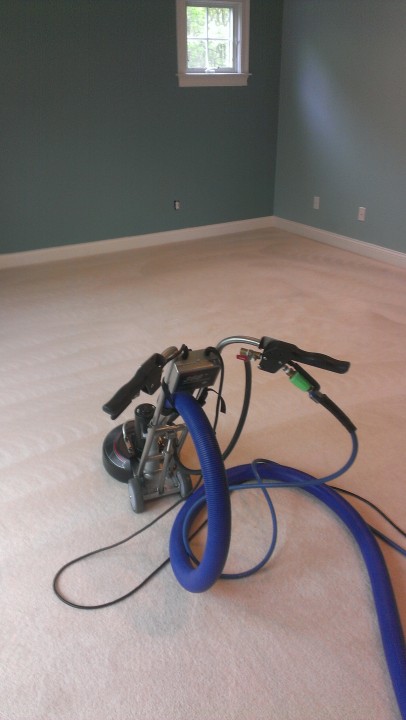 Carpet cleaning in East Bridgewater is simple when you call Procare Carpet & Upholstery Cleaning to clean your carpets using the most effective products and methods.
Embedded in your carpet are minute pieces of dirt, hair, dead skin, dust, mites, bacteria and more. There are many ways to clean your East Bridgewater carpet, but you should demand the method recommended by most carpet manufacturers - Hot Water Extraction.
Hot water extraction blasts a powerful spray of hot water solution into your carpet knocking dirt and dander from carpet fibers and quickly sucking up dirt and water with a powerful industrial grade vacuum before any of it can settle. Thoroughly cleaning your East Bridgewater carpet.
When it comes to fast thorough residential and commercial carpet cleaning in East Bridgewater Massachusetts, no one beats Procare Carpet & Upholstery Cleaning's hot water extraction carpet cleaning service.
---
Call for FREE Hot Water Extraction Quote
---
WHAT CUSTOMERS ARE SAYING:
5★★★★★ - "Dave just finished my home. Within three hours he did five rooms a hallway, and stairs to the second floor. He was on time, very professional, honest, and intent on doing everything the right way. Very glad I was able to make the appointment before Christmas. I can recommend him to anyone looking to provide the type of services he provides."

Gerry in Hanson, MA

2019-12-05

5★★★★★ - "David came to clean our couch. I was amazed at what a great job he did. He is professional, personable, informative and very thorough. He is reasonably priced. We will definitely be a repeat customer."

Fred and Pat in Taunton, MA

2019-11-04

5★★★★★ - "Just had David come by. It was his second time at my home. First, it was for furniture then today was a carpet. He is very conscientious of his work. He is respectful of my home and to me. He does a fantastic job. I would recommend him to anyone who is of the need for this type of services."

Christine B., Carpet Cleaning in Taunton, MA

2019-07-15

5★★★★★ - "Excellent customer service and fantastic results! We thought our carpet was going to need to be replaced due to multiple urine stains and odor. Dave was able to remove all the stains and odor, including a rust stain from the metal foot of a dresser that I thought would never come out. The carpet looks and smells like new and the price was very reasonable. We also had him clean and seal our tile floor. Same excellent results. He even called to check in with us before applying the sealant when he discovered some issues with our grout that the dirt was hiding. This is the second time we have used Procare. Dave is friendly, accommodating, and trustworthy. He does excellent work and doesn't cut corners. I recommend Dave and Procare without reservation."

Meredith B., Carpet Stain Removal in Brockton, MA

2019-07-15

5★★★★★ - "David did such a great job on my furniture and carpeting I had him come back the next day to clean my ceramic tile in the kitchen. Highly recommended!"

Colleen O., Carpet Cleaning in Taunton, MA

2019-07-15

5★★★★★ - "My new go-to provider! Dave cleaned my wall-to-wall recently then my dog created some new nasty stains so I reached out for an SOS and he gave me immediate service for the spots! Customer service is what counts these days, and that's what I got!"

Stacey C., Carpet Stain Removal in Fall River, MA

2018-11-13

5★★★★★ - "Dave did a great job on our carpets. I had cleaned them before with a rented machine, I will never do that again. I was pleasantly surprised how much cleaner they came out over the rented machine. Very nice work Dave, see you next year!"

Dave N., Carpet Cleaning in Taunton, MA

2018-11-13

5★★★★★ - "Dave was great! He was professional, reasonably priced, prompt and extremely meticulous while working in our home. He took our 10-year-old tile floor and made it look brand new!"

James R., Tile & Grout Cleaning in Taunton, MA

2018-11-13

5★★★★★ - "Dave shakes your hand, gives you a good price, takes pride in his work and is meticulous. A+"

Ollie L., Floor Cleaning in Taunton, MA

2018-11-13

5★★★★★ - "Dave did a fantastic job on my carpets. He was on time and very professional. I will definitely be using him again!"

Joe A., Carpet Cleaning in Taunton, MA

2018-11-13

5★★★★★ - "Wow! I'm super impressed with Dave! Showed up on time, friendly and professional, and my furniture and rug look and smell like new! I will definitely be using him for all my carpet and upholstery cleaning needs, and highly recommend you do, too! Thanks, Dave, beautiful job!"

Jean C., Area Rug Cleaning in Taunton, MA

2018-11-13

5★★★★★ - "Dave got right back to me after leaving him a message. Gave me a price with the dimensions of the rooms. Made an appointment for the next day and got here early and cleaned 2 empty rooms of carpet at a reasonable time for a great price. I would definitely recommend him to my friends and family... Thanks, Dave"

Joanne G., Carpet Cleaning in Taunton, MA

2018-11-13

5★★★★★ - "Dave Pires from Procare did an awesome job! My tile floors and rugs have never been this clean. Great communication. I filled out a request online and Dave called me right away. Highly recommended!"

Nathan P., Floor Cleaning in Taunton, MA

2018-11-13

5★★★★★ - "Thank you for your usual fabulous job!"

Joanne K., Carpet Cleaning in Taunton, MA

2018-09-17

5★★★★★ - "Dave took our 10 year old tile floors and made them look new again! Amazing job!"

James in Attleboro, MA

2018-08-27

5★★★★★ - "Dave cleaned our living room furniture. I was concerned about the water and cleaning solutions staining the materials. Dave took his time, used a hand sprayed cleaning solution and cleaned the set to look like it is brand new. Thanks Dave."

Bill Foley in Taunton, MA

2018-03-26

5★★★★★ - "I would HIGHLY recommend Dave and his work. He went above and beyond for us. He came out to give me an estimate the day I called and inquired about his services. He then scheduled us in after giving an honest summary as to what could/couldn't be done and a price that wasn't bad at all. To my surprise he did far better than we or he thought I believe. He removed stains that had been in those carpets for over 8 yrs literally. He had a very large amount of carpets to clean and he did it all in a timely manner and they look phenomenal. He even helped deal with my puppy while nobody was home, not just a carpet cleaning guy, he's an overall awesome guy!! I will never go to anyone else for any carpet or upholstery cleaning again! Don't do it yourself, Dave will do it better and the prices are not unrealistic at all! AWESOME job Dave! Thank you!"

Pam, Ed and Wyatt in Norton, MA

5★★★★★ - "We purchased a new home on 6/30/2017 and the owner was able to clean 4 bedroom carpets that morning before our family moved it. Carpets looked brand new, owner took his time to meet my needs, price couldn't be beat!! Thanks Dave"

Emond Family in Taunton, MA

5★★★★★ - "Dave is very responsive, professional and detail oriented. Carpet cleaning came out great and the price is right! A plus service!"

Cassandra H in Raynham, MA

5★★★★★ - "Dave was prompt, efficient, and very professional. He did an awesome job, and my carpet looks great! We'll use him again and recommend him to friends and business partners. His prices are very reasonable as well. Very Happy with this company!"

P in Taunton, MA

5★★★★★ - "Dave did an awesome job cleaning all of the carpets and an area rug in our new home; he was friendly, on time, and clearly very thorough! I will only be using Procare in the future and will recommend him to everyone I know!"

Sydney in South Easton, MA

5★★★★★ - "Dave did an amazing job. The area rugs look great! He was very careful with my hardwood floors. Would use him again."

Joanie Chiusano in Mansfield, MA

5★★★★★ - "He was extremely professional, showed up on time and did a great job! I Highly recommend Dave."

Anonymous

2017-03-02

5★★★★★ - "Very professional, took his time, explains procedure and did a great job."

Chris in Norton, MA

5★★★★★ - "Dave did an amazing job cleaning my carpets. He was polite, on time, and my carpets looked great after he was done. I especially appreciated the little things that he did like being careful with my furniture and giving me great consultation about the work that he was going to do. I had my carpets cleaned a few years ago and the difference between the last company and Dave is night and day! Definitely will be calling again!"

Justin in Dighton, MA

5★★★★★ - "Dave did a great job on our carpets!! We've used other cleaning companies in the past and Dave did such a better job!! Our carpets look so much better. He was professional, courteous, and efficient!! We would highly recommend Dave and will be calling him again!!"

Joe in Raynham, MA

5★★★★★ - "When I called, I got an appointment the next day. Very professional, clean and fast. Went beyond, and even did my area rug for me! The 2 carpets look fantastic, and my kitchen floor is pristine! Thank you Dave! I will definitely recommend to others your fantastic service!"

Laura Lee Holmquist

5★★★★★ - "Dave did a great job cleaning my carpets. Very friendly and very professional. I would highly recommend this company."

Fatima Barbara

5★★★★★ - "Dave is very Hard Working and the Job was Well Done!! I am very Happy with the results! I highly recommend this Company!! Great Home Town Service!!!"

Carol Despinosa in Taunton, MA

5★★★★★ - "Dave did a great job on my rugs. Very pleasant to deal with and extremely professional. Great experience and very competitively priced. I will definitely use him again!"

Larry Gantz in Norton, MA

5★★★★★ - "Dave has cleaned my carpets in my home several times (and I have animals) and he is excellent. I have referred him to many people. I recently recommended him to our medical office...he came in a timely manor and cleaned all rugs and all our waiting room and exam room chairs. Again an excellent job...we only use the best for our patients."

Deb Boyd in New Bedford, MA

5★★★★★ - "Dave has done work in my home while getting ready for sale - perfection!!!!
I recommended him to our medical office - he came in and cleaned all rugs and chairs.....again to perfection!!!! Our patients' health and the cleanliness of our office is important to us. Dave went above and beyond. I would recommend him to any business and/or homeowner."

Deb in Rochester, MA

5★★★★★ - "Dave did a fantastic job for me! I thought I had to replace carpets but he saved them and made them look like new. He got all stains out. Truly amazing. Thank you!"

Lidia in Raynham, MA

5★★★★★ - "What a Great job Dave did cleaning our carpets today! They look like new...I will never have anyone else clean my carpets again! He was on time, kind and professional!"

Kelly in Foxboro, MA

5★★★★★ - "Pro care came into our home and cleaned all our carpets and stairs. What a beautiful, professional job. We are all set for the season. Thank you and what an easy company to work with."

Maureen Higgins in Taunton, MA

5★★★★★ - "Procare always does a beautiful cleaning job and my carpets look brand new again. Fair price and quality work always. And Dave fits you in on your schedule, quick service!"

Cathy in Lakeville, MA

5★★★★★ - "Procare always does a superb carpet cleaning job; my rugs look brand new when done! Reasonably priced and Dave is very accommodating to fit your schedule. Prompt service and always on time!"

Cathy in Lakeville, MA

5★★★★★ - "I had Dave from Procare clean the carpets in my home right before the holidays and everything looked brand new when he was done. He was very professional. I will use him again next year!"

Felix Medeiros in Taunton, MA

5★★★★★ - "Great experience with Procare. Dave brought my carpets back to life! I would use him again."

Tim DeFrancisco in Taunton, MA

5★★★★★ - "Dave did an excellent job Very accommodating Punctual arrived on time. And completed the job on time. Extremely reasonable on price. I would use his service again."

Dan in Dajie, PE

2016-06-02

5★★★★★ - "I've had Procare clean my rugs at my house and my rentals and I've never been so happy with the results and professional service . I will continue to use Dave and recommend him to all my friends and family."

Home Owner, Area Rug Cleaning in Taunton, MA

2016-03-09

5★★★★★ - "Our Daily Bread is a nonprofit soup kitchen located in Taunton. We were in bad need of cleaning our hallway carpet in stairs. As a nonprofit funding is always a challenge. I contacted several companies to see if they could give us discount or complimentary cleaning and Dave with ProCare replied immediately and said he could take care of us. Three days later he was here as scheduled and did a incredible job with a very old carpet. Thank you, Thank you, Thank you!"

Ann Duhaime

2015-07-10

5★★★★★ - "Hi Dave, here at The Children's Museum in Easton we rely on the recommendations from others when we have needs that require professional service. We are so thankful that you were referred to us! You are, and continue to be, simply amazing. It is so refreshing to work with someone who promptly returns call, arrives on time and provides optimum cleaning. Keep up the good work."

Karen

2015-07-01

5★★★★★ - "I would like to express my thoughts of how Procare was a wonderful experience from the first phone call to the moment Dave walked through my apartment door. From the first phone call I felt confident and arrangements where made in order to clean my carpets while I was at work. Trust was the first issue and that was met. Then when I came home three days later I was amazed by how clean my carpets where. It had been 10 years since they had been professionally clean and they looked like brand new carpets. My experience with Procare was wonderful and would recommend them to friends and family."

Bill Barry in Taunton, MA

2013-05-20

5★★★★★ - "Dave, Thanks for the great carpet cleaning service. I never thought the spots from our dog would completely be removed and disappear, but the rugs look as new as the day we got them. You did a great job. Thanks for your detailed and professional attitude. Your customer service exceeded my expectations. Thanks again for the clean carpets!"

Cathy in Mansfield, MA

2013-05-20

5★★★★★ - "I had Procare clean the carpets at my home and they came out great! Dave the owner came and did the job. He was very professional and did a great job. I was really amazed at how dry the carpets were 10 minutes after he was done. I will recommend him to my family and friends. Dave is a hard worker and was very honest. We always had cleaning companies in the past add extra charges when they got here, Dave didn't do that, we were very comfortable with him."

Joseph Siciliano in Brockton, MA

2013-05-20

5★★★★★ - "Dave has been taking care of our restaurant for the past five. Before him we used a few different companies that never did the job rite. No one has come close to the quality of his services. He is very hard working and a great person to deal with. He has done a awesome job keeping the carpets looking like new over the years. I can't say enough about his services. I recommend him all the time."

John T.of Harry's La Casa Mia in Raynham, MA

2013-05-20

5★★★★★ - "My Carpet was filthy....very light beige carpet and especially the travel areas were really bad....I had David at Procare clean the carpet and upholstery... and everything looks brand new...what a fabulous job he did....very neat and professional person."

Gail Martell in Rockland, MA

2013-05-20

5★★★★★ - "I thought our Bassett Hound puppy ruined our new love seat and carpets and I called Procare. David did a wonderful job cleaning everything. It all looks brand new again. He was very friendly and polite."

Erica Emond in Taunton MA

2013-05-20

5★★★★★ - "ProCare came to my apartment and cleaned it right before I moved out and saved me from paying any fees from my deposit for the terrible stains that had gathered over the years. The whole process was smooth from the beginning."

Derek Holt in Taunton, MA

2013-05-20

5★★★★★ - "My son was due to be born any day and I needed someone I could trust to clean the rugs in my nursry. Dave from Procare carpets showed up on time and ready to work. When Dave was done, the rugs looked like new and the price was very reasonable."

Jason Cunningham in Bridgewater, MA

2013-05-20

5★★★★★ - "We are very pleased with the results after having our carpets cleaned by Procare. You feel more secure when the owner of the company is actually a part of the cleaning process. David was very knowledgeable about his work, informative and also professional. He explains what he is doing and takes the extra time to go over areas that he thought needed extra attention. Anytime I schedule an appointment, he is always prompt and courteous. We are extremely satisfied with the service and always a job WELL DONE!! We would not hesitate recommending Procare to our friends and family! Keep up the great work, David!!!"

Jeff and Paula Minard in Bridgewater, MA

2013-05-20

5★★★★★ - "Dave from Procare has been cleaning our carpets and office for almost 10 years now. He shows great professionalism and customer service. Always willing to go the extra mile for his customers. Our carpets were very dirty and hadn't been cleaned in years. He worked his magic and brought back the original color and removed all the stains."

Sarah from ATC, Weymouth, MA

2013-05-20

5★★★★★ - "Hi Dave, My husband and I just wanted to let you know that not only were we happy with the job you did on the carpets in our home, we really appreciate the extra time and effort you put into certain areas of concern. With 2 children and a dog, our carpets can get pretty dirty, and we were just amazed at how well it turned out. We were also amazed at the fact that you the owner was cleaning our carpets- that showed us alot of dedication. Thanks again for a job exceptionally done!!"

Rebecca and Kyle Emond, Taunton, MA

2013-05-20

5★★★★★ - "The ceramic tile in my kitchen looks brand new! The grout was quite dirty and was not even close to the original color. There was cooking grease, tomato sauce, and who knows what else embedded in the grout. David put an oxygenated spray on it, scrubbed it, and let it sit for about 20 minutes. He then scrubbed it again before he washed the grout and floor with his pressurized washer and extractor. It dried almost immediately. When he was done, the floor looked as good as it did the day it was installed 12 years ago. David was wonderful to work with. I highly recommend him for all cleaning needs as he has also done a wonderful job on my carpets in the past." Lynne Bougas in Raynham, MA"

Anonymous, Tile & Grout Cleaning in Raynham, MA

2013-05-20

5★★★★★ - "Hi Dave, We just wanted to let you know how amazed and surprised we were at the terrific job you did cleaning our furniture. Like I said when talking to you, we were not expecting miracles with the heavy dirt from the kids, dogs, and amount of people we have at our house every day, and we are very happy with you and the great job you did. My husband said they look new! I honestly didn't look at your website till tonight looking to get to your email address, and I can agree and ditto with the other happy customers that have left positive testimonials, that you have a great way with people and know your business to the fullest. I will happily be sharing your business cards and recommending you to all of our family and friends, as well as asking you to check back with us - maybe 9 to 12 months from now ! as we have decided we can get more time out of this set if we get it cleaned by you regularly! THank-you for a job well done, and your professionalism - AND your patience when I couldn't return as quick as I had planned. I'm really sorry I kept you waiting, next time I will stay, and I'm sure I will be sending at least a few jobs your way." Marie Flynn in North Easton, MA"

Anonymous, Upholstery Cleaning in North Easton, MA

2013-05-20
---
Call for FREE Hot Water Extraction Quote
---